New Mexico is up next in our redistricting series. Throughout 2021, we'll delve into the states in detail, spotlighting a different state's redistricting outlook each week. Make sure to read our full redistricting outlook. 
---
Current Delegation:  2D, 1R
Projected 2022 Seats: 3 (No change)
Redistricting Control: Democratic
Current Congressional Map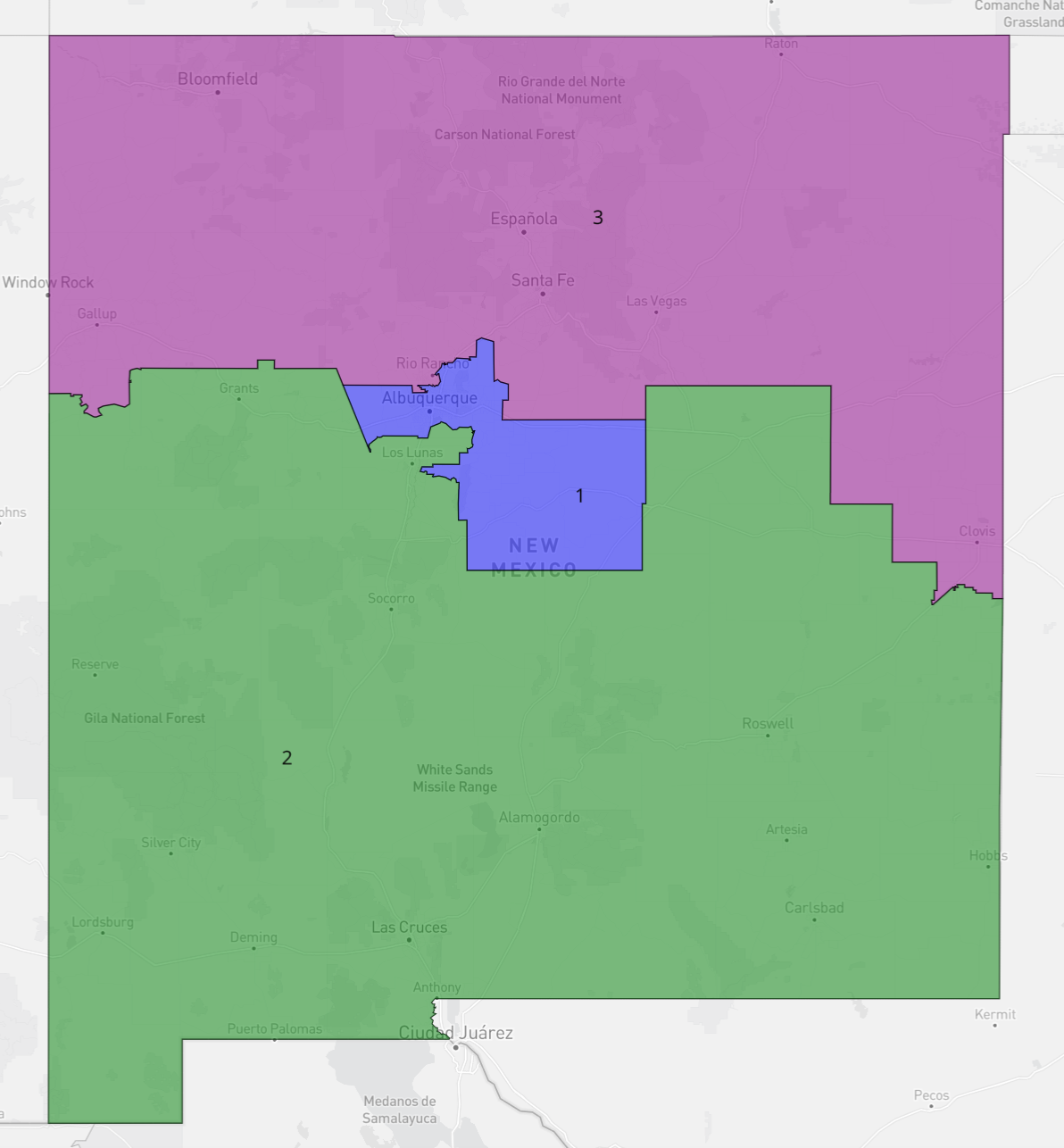 Map credit: Cook Political Report, drawn with Dave's Redistricting App
District-Level Population Analysis
Redistricting Outlook 
Democrats control New Mexico's redistricting trifecta, which is a big change from the past two decades, when a GOP governor vetoed the Democratic legislature's map and state courts drew maps making minimal changes. Now, the million dollar question is whether Democrats will threaten the state's only remaining GOP federal officeholder, Rep. Yvette Herrell, by making her southern 2nd CD much less Republican.
On June 1, Democrat Melanie Stansbury won a special election for the vacant Albuquerque 1st CD, defeating Republican Mark Moores by a whopping 25 points. The unexpectedly wide margin could embolden Democrats to shift some reliably blue voters in Bernalillo County (Albuquerque) from the 1st CD to the 2nd CD - a move that would imperil Herrell, who unseated Democrat Xochitl Torres Small by seven points in 2020.
However, back in April, Gov. Michelle Lujan Grisham signed into law a reform bill creating an independent redistricting advisory commission, calling into question how much gerrymandering muscle Democrats will ultimately flex.
Under the new law, the seven-member commission will be made up of two Democrats and two Republicans appointed by legislative leaders, as well as three nonpartisan members appointed by the state ethics commission. The commission must hold at least six public hearings, must not consider partisan data, and must submit at least three congressional plans for the legislature's consideration before October 30.
Here's the catch: the commission serves an advisory role only, and to reformers' chagrin the legislature may adopt, modify or ignore its proposals. In other words, the only thing stopping Democrats from trampling the new body would be bad optics.
If the commission had sole mapping discretion, it would probably preserve the status quo of two double-digit Biden seats in the north and one double-digit Trump seat in the south. It could even unite the 2nd CD's Ramah Navajo population in Cibola and McKinley counties with other tribal voters in the 3rd CD, which would unwittingly shield Herrell by boosting the Trump margin in the 2nd CD from 12 to 14 points (below).
Potential 2022 Commission Map (2D, 1R)

Map credit: Cook Political Report, drawn with Dave's Redistricting App
However, the smart money in Santa Fe says that Democrats will eventually overrule the commission and try to pass its own 3-0 plan, which could pave the way for Torres Small to mount a comeback against Herrell in 2022.
In 2018, Torres Small rode the "blue wave" to beat Herrell 51 percent to 49 percent for an open seat, making impressive inroads in conservative ranch country and becoming the first Latina to represent the rural seat. But, her vote for impeachment and national Democrats' rhetoric on oil and gas proved costly. In 2020, Herrell rode Trump's coattails to unseat Torres Small in a bruising, $11 million rematch. 
Torres Small, 36, recently helped launch a PAC to boost moderate Democrats around the country. National Democrats, desperate to hold the House majority, are counting on her to mount a comeback. But New Mexico political blogger Joe Monahan has also reported she is under consideration for a Department of Agriculture post in the Biden administration, calling into question her appetite for a third straight race.
How would Democrats rationalize drawing a 3-0 gerrymander just months after passing a supposed reform? According to strategists, they could use the creation of a strongly Hispanic majority seat as their outward justification.
Privately, Democrats are considering pairing left-leaning Las Cruces (Torres Small's base) with the heavily Hispanic Barelas/South Valley neighborhoods of Albuquerque in a revamped 2nd CD (below). It would include Herrell's home base of Alamogordo (Otero County), but would exclude mega-conservative ranch and oil/gas towns of Roswell, Carlsbad and Hobbs in "Little Texas" to the southeast.
Under the hypothetical lines below, the 2nd CD would go from 47 percent to 54 percent Hispanic. More meaningfully, it would morph from a district Trump carried by 12 points to a district Biden won by two points - a pretty massive swing.
Potential 2022 Democratic Map (3D, 0R)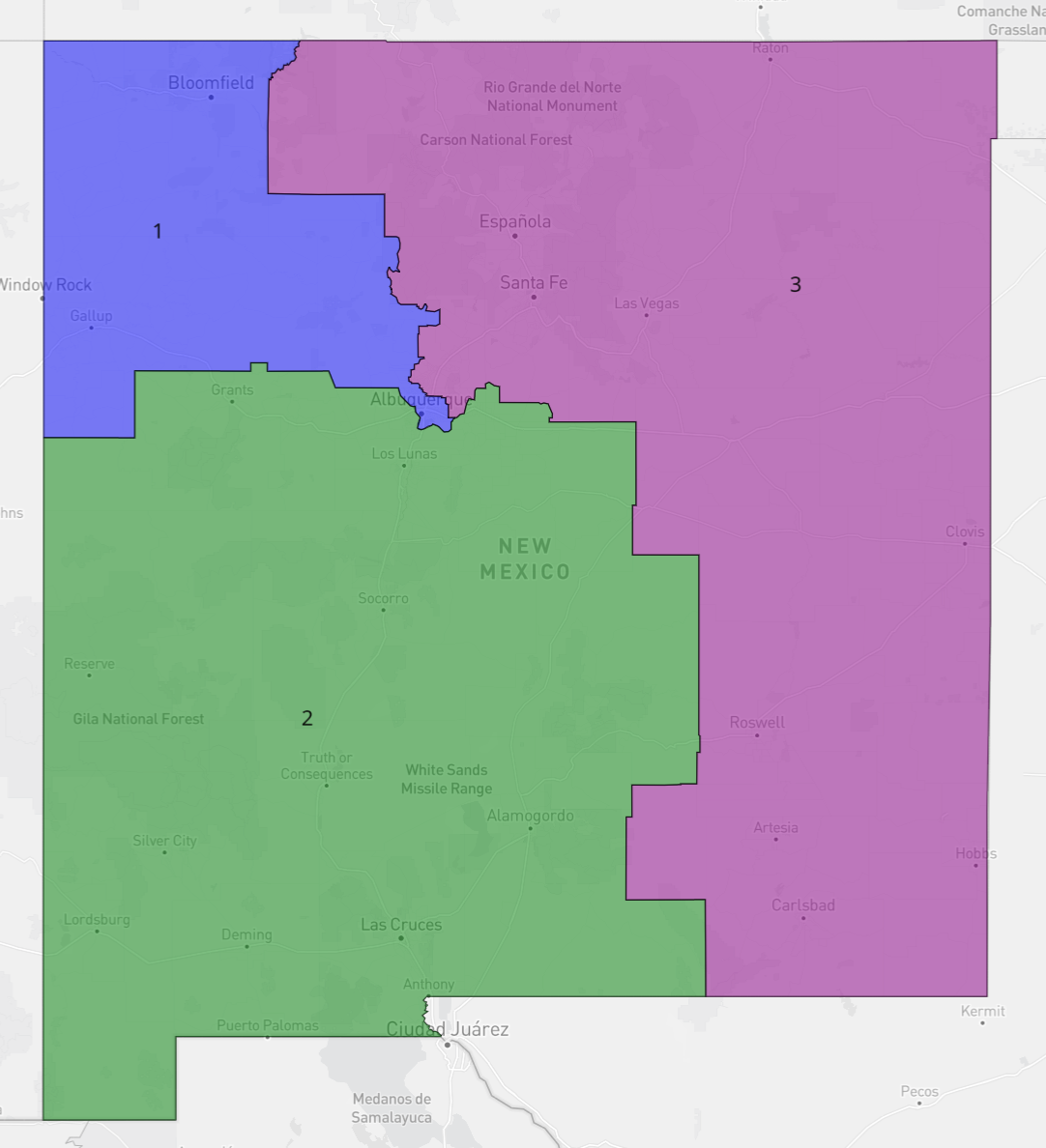 Map credit: Cook Political Report, drawn with Dave's Redistricting App
There are a couple potential snags in this scheme, though. First, Torres Small's husband Nathan Small is a state representative in Las Cruces, and any state legislative effort to morph the 2nd CD could lead to accusations of nepotism.
Second, the 1st CD would have to give up Democrats in Albuquerque and the 3rd CD would likely need to absorb a lot of GOP terrain in southeastern New Mexico, and freshman Democratic Rep. Teresa Leger Fernandez (NM-03) might not welcome that drastic a change. To offset the influx of GOP voters from Little Texas, the 3rd CD might need to shed conservative San Juan County in the state's northwestern corner.
Bottom line: given Democrats' control, Herrell should be considered vulnerable. But between the commission and the complexities of such a radical makeover, there are still a few ways she could still escape unscathed.