On Tuesday, a three-judge federal panel unanimously struck down two South Texas districts as unconstitutional on the grounds that GOP mapmakers had drawn them with racially discriminatory intent. But upon closer inspection, Republicans have reason to breathe a sigh of relief: the ruling upheld other challenged districts in San Antonio, Dallas and Houston and may at most produce a net gain of one seat for Democrats - close to a best-case scenario for the GOP.
Before Tuesday, there was talk in some GOP circles that the ruling could result in a court-drawn "Armageddon map" that would net Democrats as many as a half-dozen seats. But Tuesday's ruling won't produce a Democratic bonanza.
The panel found that legislators used race improperly in 2011 when drawing the districts of GOP Rep. Blake Farenthold (TX-27) and Democratic Rep. Lloyd Doggett (TX-35), but it's possible neither will lose his seat in a remap. Meanwhile, the court found no discriminatory intent in the drawing of the competitive seat held by GOP Rep. Will Hurd, who could have become a long shot for reelection had judges mandated adding more Hispanic voters to TX-23.
In another welcome decision for Republicans, the court ruled that the plaintiffs had failed to justify the creation of minority "coalition" districts in the Dallas and Houston areas. Had the court ruled in the plaintiffs' favor, it's likely Democrats would have scored an additional two seats.
The court ordered Texas Attorney General Ken Paxton to indicate by Friday whether the legislature plans to hold a special session to remedy the map. If not, the court will hold a remedial hearing on September 5 to consider a replacement. GOP Gov. Greg Abbott has indicated that the state will appeal the decision to the Supreme Court, but there's no guarantee the high court will be eager to revisit the redistricting case that never seems to end.
South Texas's Current Congressional Map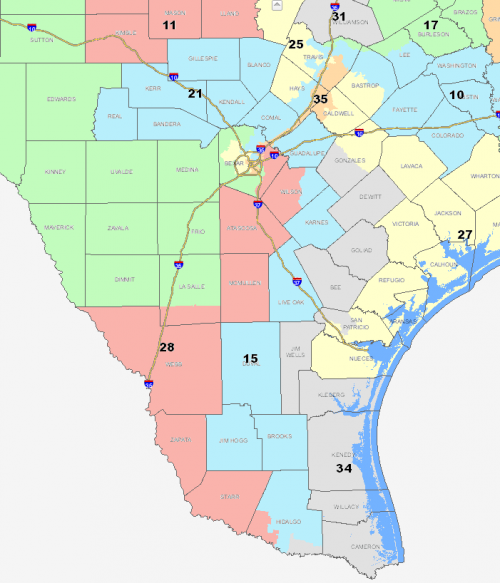 ​
In the instance of Farenthold's TX-27, the court took issue with GOP legislators for adding all of Nueces County, home to a large Hispanic population in Corpus Christi, to a heavily Anglo seat designed to protect him in 2012. It seems inevitable that whether the map is redrawn by judges or legislators, heavily Hispanic portions of Nueces County will be moved into nearby districts (likely TX-34) and Farenthold could still run in a solidly GOP district based to the north.
In the instance of Doggett's TX-35, which awkwardly stretches from Austin to San Antonio, the court chided GOP legislators for using race as an excuse to attempt to draw Doggett, their longtime nemesis, out of a job. "Mapdrawers' placement of significant population from Travis County into CD35 was not to substantially address the [Voting Rights Act Section 2] requirement, but to use race as a tool for partisan goals," the judges wrote.
According to Texas redistricting expert/attorney Michael Li, one logical remedy would be to convert one existing GOP seat - maybe GOP Rep. Roger Williams's 25th CD - to a safe Democratic Austin "vote sink" for Doggett, then push TX-35 south to become an even more San Antonio-centric seat designed to elect a Latino Democrat. A newly compact TX-25 and reconfigured Corpus Christi districts could look something like this: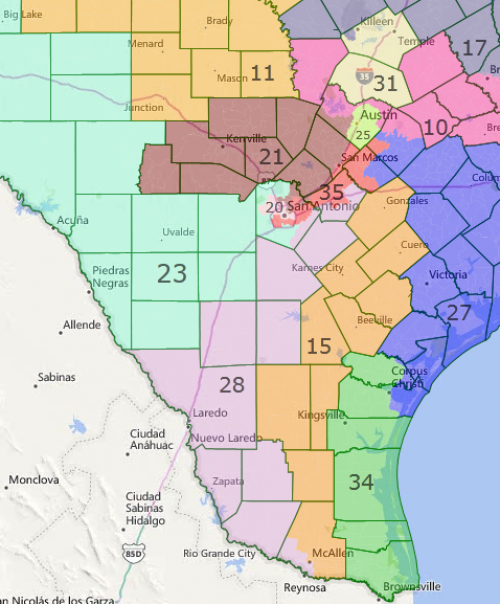 ​
It's also possible the GOP legislature could attempt to engage in some sleight of hand to avoid giving up one of their own seats. The end-run would involve taking TX-35 out of Austin to comply with the ruling, but continuing to split Travis County five ways - perhaps giving some of it to Farenthold's TX-27 - to "crack" Austin's liberal voters. There's talk such a reconfiguration could look like this: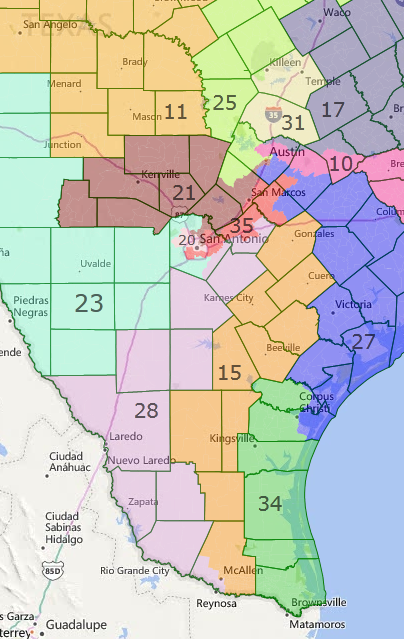 ​
But this party-preservation strategy carries risks. It's possible the court could reject it as a remedy, arguing Doggett, an Anglo, would have little choice but to run in the new TX-35 designed to elect a minority candidate of choice. In that instance, the court could impose an even less favorable map. It's also unlikely Reps. Mike McCaul (TX-10), Bill Flores (TX-17) or Lamar Smith (TX-21) would want to take on a lot of new Democrats.
Bottom line:
The most likely outcome of this legal saga is a loss of one seat for Republicans. But given Democratic vote growth in the Austin area, Republicans probably would have needed to create a new Democratic Austin seat to protect surrounding seats by 2022 anyway. Overall, Republicans dodged a decision that could have erased one sixth of their majority virtually overnight - and that's good news for their majority.