As the midterm elections dominate political news coverage these days, the early machinations by prospective 2020 Democratic presidential contenders are quietly well under way. Indeed, staff and consultants are already being hired by many wannabes, and early states are already scoring visits from potential candidates.
Recent experience—the 2016 campaign—underscores the perils of early prognostication. Some candidates who appeared promising in early 2015 barely got off the ground. Others not expected to do well did far better: Sen. Bernie Sanders gave Hillary Clinton very stiff opposition, while Donald Trump, whom few took seriously early on, won the GOP nomination and the presidency.
So handicappers and operatives alike need to approach 2020 with far greater humility than in the past—being more open-minded and inclusive when compiling lists of contenders, touting some, dismissing others.
Sorting through the names of potential candidates reveals a virtual smorgasbord of names potentially as lengthy as the mammoth 16-candidate field that sought the Republican nomination in 2016. One way is to group together possible contenders into buckets.
The first bucket contains the familiar faces who have sought the White House before: former Vice President Joe Biden, former Secretary of State and 2004 nominee John Kerry, and Sanders, none of whom would have any name-recognition problems. A little less familiar is another 2016 candidate, former Maryland Gov. Martin O'Malley. To save time for those about to Google ages, at the time of the Nov. 3, 2020, general election, Biden will be 77 years old, turning 78 later that month; Kerry will be 76, turning 77 in December; and Sanders will become 79 two months before the balloting.
Given the increasing role of minorities and women within the party, there are plenty who argue that the Democrats should look beyond that well-known trio of white guys in their 70s.
The two most prominent African-American potential candidates are Sens. Cory Booker of New Jersey and Kamala Harris of California. Others suggest looking for a Latino nominee and point toward former Housing and Urban Development Secretary Julian Castro and Los Angeles Mayor Eric Garcetti (ignore the Italian surname).
One of the biggest groups of potential candidates is women. Sens. Kirsten Gillibrand of New York, Amy Klobuchar of Minnesota, Elizabeth Warren of Massachusetts, and Harris have been mentioned along with Rhode Island Gov. Gina Raimondo and Facebook COO Sheryl Sandberg—although news developments of the last week or so have not been helpful for anyone from Facebook.
Some theorize that Democrats should look beyond the Washington Beltway for their next nominee, and there are a plethora of governors and mayors who appear to be maneuvering themselves for a possible candidacy. Beyond Raimondo, governors mentioned include Steve Bullock (Montana), Andrew Cuomo (New York), John Hickenlooper (Colorado), and Jay Inslee (Washington), along with former Virginia Gov. Terry McAuliffe. The new growth sector seems to be mayors, with New York City's Bill de Blasio, South Bend, Indiana's Pete Buttigieg, L.A.'s Garcetti, and New Orleans's Mitch Landrieu all thought to be eyeing bids.
Another beyond-the-Beltway category is business leaders, certainly an oddity for Democrats, with Facebook's Sandberg, Starbucks Executive Chairman Howard Schultz, and environmentalist and former private-equity manager Tom Steyer often mentioned.
Finally there is the most crowded category, members of Congress. Out of the Senate there are Booker, Gillibrand, Harris, Klobuchar, Sanders, and Warren, as well as Sens. Chris Murphy of Connecticut and Mark Warner of Virginia, along with two House members, Rep. John Delaney of Maryland (who has already announced his intention to run) and Rep. Seth Moulton of Massachusetts.
It's impossible to know at this stage who will take off. An obvious question is: What will Democratic voters be looking for? Given the animosity within the Democratic Party for President Trump, a case can be made for the antithesis of Trump: someone with governing experience, a tested elected official. But even those come in two types: those with Washington experience and those untainted by having worked in the Capitol. A strong case can be made, however, for fresh and younger faces, particularly given that so many of the most visible party leaders were born in the 1940s.
Finally, there is the matter of ideology. On a scale of moderately liberal to very liberal, is the Democratic Party's center of gravity closer to the left of center, like Biden and Hillary Clinton, or much further to the left like Sanders and Warren? Right now, the midpoint of the party would seem to be closer to the latter.
For what it's worth, the March 22-25 CNN/SSRS national poll of 490 Democrats and Democratic-leaning independents asked whether respondents would be likely to vote for or against various potential Democratic candidates. Eighty-four percent said they would likely support a Biden candidacy (56 percent very likely); Sanders came in second with 75 percent (46 percent very likely), followed by Warren with 68 percent (33 percent very likely), Harris with 53 percent (19 percent very likely), Booker with 50 percent (21 percent very), and Gillibrand with 48 percent (10 percent very likely).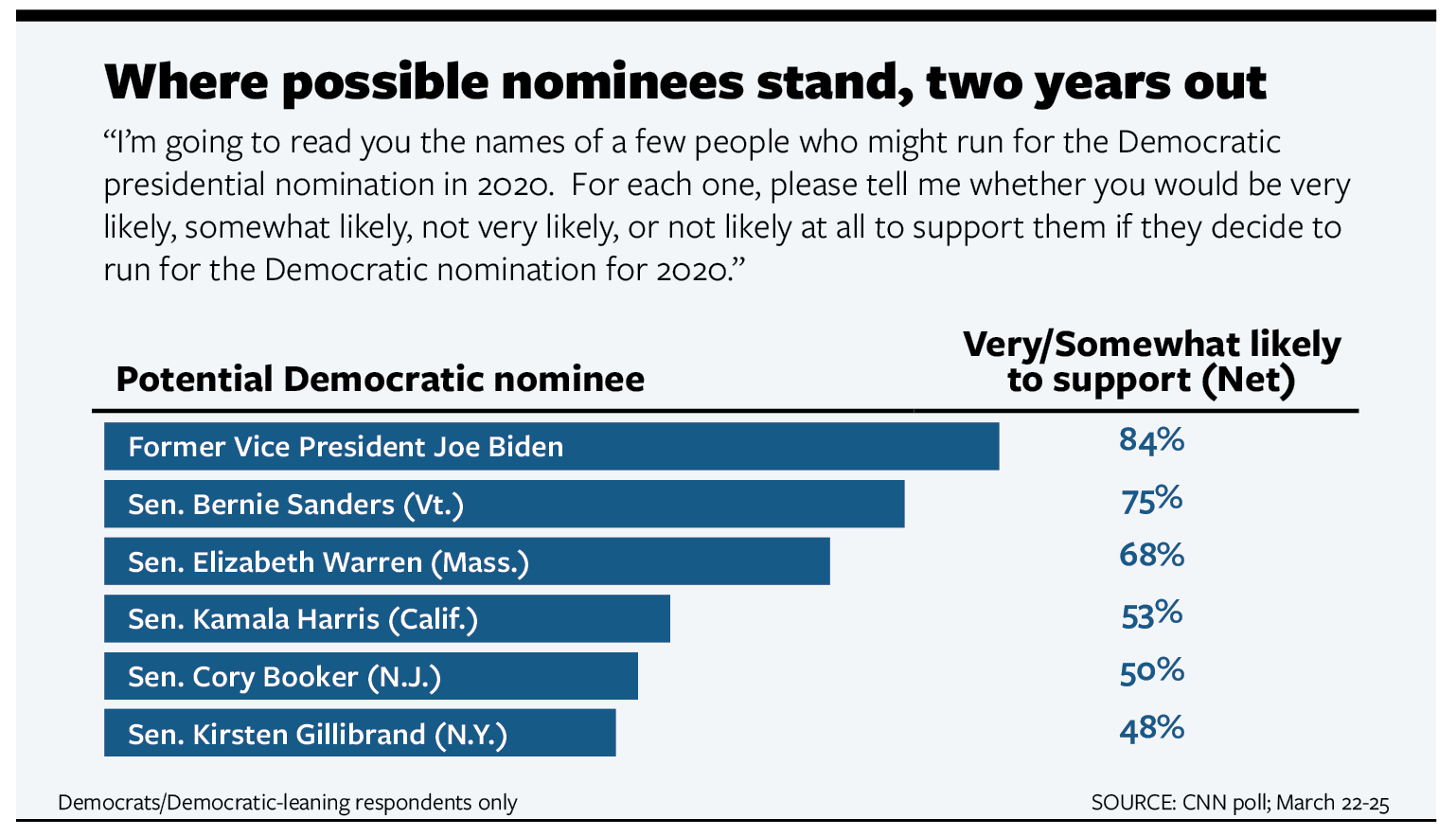 If the election is a referendum on Trump, he would likely lose should his job-approval ratings match their current state in the high 30s and low 40s. But his poll numbers were similarly low in the 2016 race, a contest between the two most unpopular major-party nominees in modern history, when whoever the election was about would lose.
Trump trailed through most of the race, when the spotlight was more on him. But in the closing weeks, when the contest seemed effectively over, the focus shifted to Clinton and the race became a referendum on her. It was enough to give an Electoral College win to Trump, thanks to some 78,000 votes spread across Michigan, Pennsylvania, and Wisconsin, despite the popular vote going for Clinton by 2.9 million votes and 2.1 percentage points.
Some argue that a placebo as a Democratic nominee would have won but a problematic, polarizing Democratic nominee couldn't, and didn't. There is a school of thought that if Democrats simply put up an attractive and qualified, non-polarizing nominee, they should win in 2020 but that if they nominate someone with sharp edges who is a magnet for controversy, maybe not. That's what the next two and a half years will be about.
This story was originally published on nationaljournal.com on March 30, 2018